Ethnographical Museum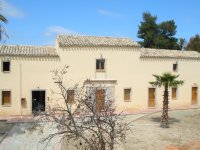 The Ethhografic and Archaeological museum of Esempio, currently in phase of preparation, has it's center in the what is called ex "Mura Sebastiano's house" a typical house with court acquired by the Commune the 22 th of may 1996, located in the center of the inhabited area in the street XX Settembre ("Bia Mesuidda").
His central position in comparison to the native housing nucleus , makes it a precious testimony of the past to preserve and to show.

The building itself, constitutes for its artistic-architectural configuration, a cultural good. The date stamped on the vault of the portal, that results photographed and quoted by LE Lannou in the book "Patres et paysans de la Sardaigne", it determines his construction, even if the block results perfectly fully grown in 1841 (date of the Inventory De Candia). The portal, built to measure of a wagon, faces on a small private run called " imperdau " and it is of valuable invoice for the architectural element on which the social image of the family is projected. In correspondence of the portal, inside the court, we find a covered space called " su procciu " turned to the custody of the wagon and the gig, above the "procciu" there is " su staili ", local where the family provisions were preserved (grain and vegetables in generally).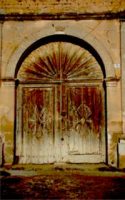 Compared to the native plant the building has suffered some tamperings adopting a housing model like the one at " palathiu ", characteristic element of this typology is the staircase, but still preserves the characteristic of a double partition courtyards: "sa pratza de ananti" "the front court-yard" destined to the circle of relationship with the town and "sa pratza de pallas" the back court-yard finalized to the agricultural productive uses. The parvises are developed along the building perimeter , attached there are rustic destined to the agricultural jobs and to the refuge of the animals and to the " magasinu " "storehouse" as in all the houses of the great owners. Inside the principal residence the continuous and comunicating spaces are used, coming from the articulation of the environments disposed in succession as expositive places and here some furniture will find it's position as agricultural utensils symbol of the tradition of serdianesis.
The Museum primarily develops the role of "research and maintenance of the local historical memory" with an ethnografic endowment that will constitute the expositive element of the first floor, but it's also a laboratory where promotional initiatives and of exploitation of the territory and more are studied, making all the necessary structures available , it will become a place of research on the field, production of shows, conferences organization, presentation of volumes and studies, laboratories for the rebirth of the most ancient works and for the recovery of the disappeared traditions.
Data di ultima modifica: 21/03/2017